Capsule De-duster metal detector
HSCM 2000 ranges are mainly used for dedusting and polishing capsules, however HSCM 2000 can also be used for small and hard tablets. A polyamide/nylon rotative screw without end achieves a polishing in a 316L stainless steel tube. On the overall uphill conveying length suction stitchings allow powder excess to be removed.This vertical ascending device with adjustable length from 700mm to 1150mm can be equipped with a removal system for empty or opened capsules.

The "HSCM 2000" capsule dedusters are equipped with a metal particles detector. This permits reaching an optimal accuracy such as a spherical steel part of 0.3 mm in the products. A high speed rejection mechanism instantly rejects non conform products.

The construction of this special frame saves space into the production room and reduces the retention areas. In addition, the circuit of capsules is therefore totally closed between the inlet into the deduster and the outlet of the metal particles detector.



Features
Lift the products
Excellent de-dusting
Fully mobile
Minimum floor utilization
Quick dismantling & assembling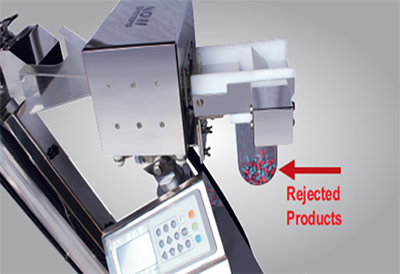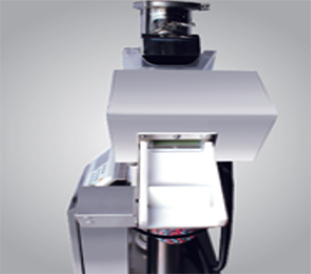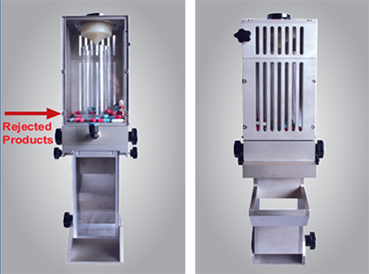 Calibration Sensitivities(Metal detector)
캡슐금속탐지탈분기

| Head size | Accuracy Ferrous | Accuracy Non-Ferrous | Accuracy STS 316L​ |
| --- | --- | --- | --- |
| 95 x 38mm | 0.3mm | 0.35mm | 0.5mm |
캡슐금속탐지탈분기
Description
HSCM 2000
Metal Detector
Inlet height (A)
700mm
700mm
Outlet height (B)
1150mm
1000mm
Floor dimension(C x D)
400mm x 650mm
400mm x 650mm
Minimum tablets size
T-4
Maximum tablets size
T-00
Input power
220VAC, 1P, 50/60Hz,
material
STS304 and contact parts : STS316L
Weight
125kg
160kg
Capacity
Capsule T 00
220,000Caps/H
Capsule T 0
250,000Caps/H
Capsule T 1
280,000Caps/H
Capsule T 2
300,000Caps/H
Capsule T 3
380,000Caps/H
Capsule T 4
500,000Caps/H